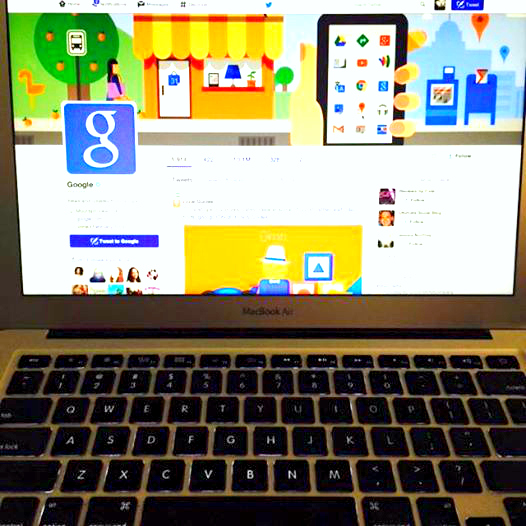 You probably heard that Twitter Inc. has signed what is called a "FireHose" deal with Google Inc. to bring the tweets back into Google searches, more visibilty to the tweets — and subsequently more clicks on pages where Twitter can monetize that activity. The updates will be more searchable online, as the platform tries to broaden its reach beyond its 284m monthly active users.
The deal comes as Twitter prepares to reveal the latest statistics on the size of its userbase to Wall Street, which has been disappointed by slow user growth, sending the stock down 37 per cent in the past year. Twitter's userbase is disappointing, considering the 1.4bn users on Facebook and the 300m on Facebook-owned Instagram.
In the first half of this year, tweets will start to be visible in Google's search results as soon as they're posted, thanks to a deal giving the Web company access to Twitter's pipeline, the stream of data generated by the social platform service's 284 million users. Google previously had to struggle on Twitter's site for the information, which will now be visible automatically.
The agreement supports the progress that Twitter Chief Executive Officer Dick Costolo is making in getting tweets seen by more non-users and generating more advertising revenue to a larger audience. Twitter, which also provides data to Microsoft Corp.'s Bing search service and Yahoo! Inc., is aiming to draw more people to its site as user growth crawls. Twitter this week announced deals to show advertising in Flipboard Inc.'s mobile application and with Yahoo Japan Corp
Twitter shares rose 1.3 percent to $41.26 at the close in New York.
Engineers from Twitter and Google are already working on the details. The two companies had a similar deal from 2009 to 2011. Ali Rowghani, Twitter's former chief operating officer, had been against renewing the agreement to increase control over Twitter's content.
The  relationship benefits both companies, according to analysts and industry experts:  "more opportunities for Twitter to convert, and possibly monetize, logged-out users,".  It will also increase how often people with Twitter accounts check the site.
"For Google, search results will be enhanced by a broader and direct access to real-time tweets and a much larger amount of content,".
It is not known whether the deal with  Google will include showing promoted tweets along with Google's own advertisements.
Twitter has also been trying to boost its revenue from Twitter data, by buying Gnip, a Twitter firehose provider, last year. It struck a deal with IBM in October to apply data from the network to real-time business decisions for IBM's customers.
Now you are wondering what does it mean for you and your business? Stay ahead of the competition and starting using twitter with mindful keywords and a solid online marketing strategy. Because at the end, Google will reward you and your website for that!